Most of us know it as being "in the zone", that tunnel-like state of focused concentration where, for a short period of time, anything feels possible. In the scientific realm, it's often referred to as being in a state of "flow" or "effortless alertness". In this state, our minds demonstrate a high level of alpha brain waves, which has been shown to induce feelings of calm, increase creativity and enhance our ability to absorb new information.
For Ārepa, the Auckland-based company which takes its name from the te reo Māori translation for "alpha", reaching that state of mind has been the mission of founders Angus Brown and Zac Robinson since they formed the company in 2012. Specialising in scientifically proven brain nutrition, most notably in the form of its blackcurrant-based drink, Ārepa's goal is to help keep people productive, focused and calm by offering "cognitive stamina and a mental lift" without the need for widely-used stimulants like caffeine or added sugar.
"Caffeine is one of the most addictive drugs in the world. We just thought there had to be a better option out there," says Robinson. "We're not out here to offer another caffeinated sugar water, we're out here to offer natural brain food that makes your brain work better, for longer, with the clinical science to prove it. That has always been our aim."
While its first bottles only hit shelves in 2017, Ārepa as a concept has been around since 2012, when its two co-founders, who met at university, teamed up with a shared goal to help make brains work better.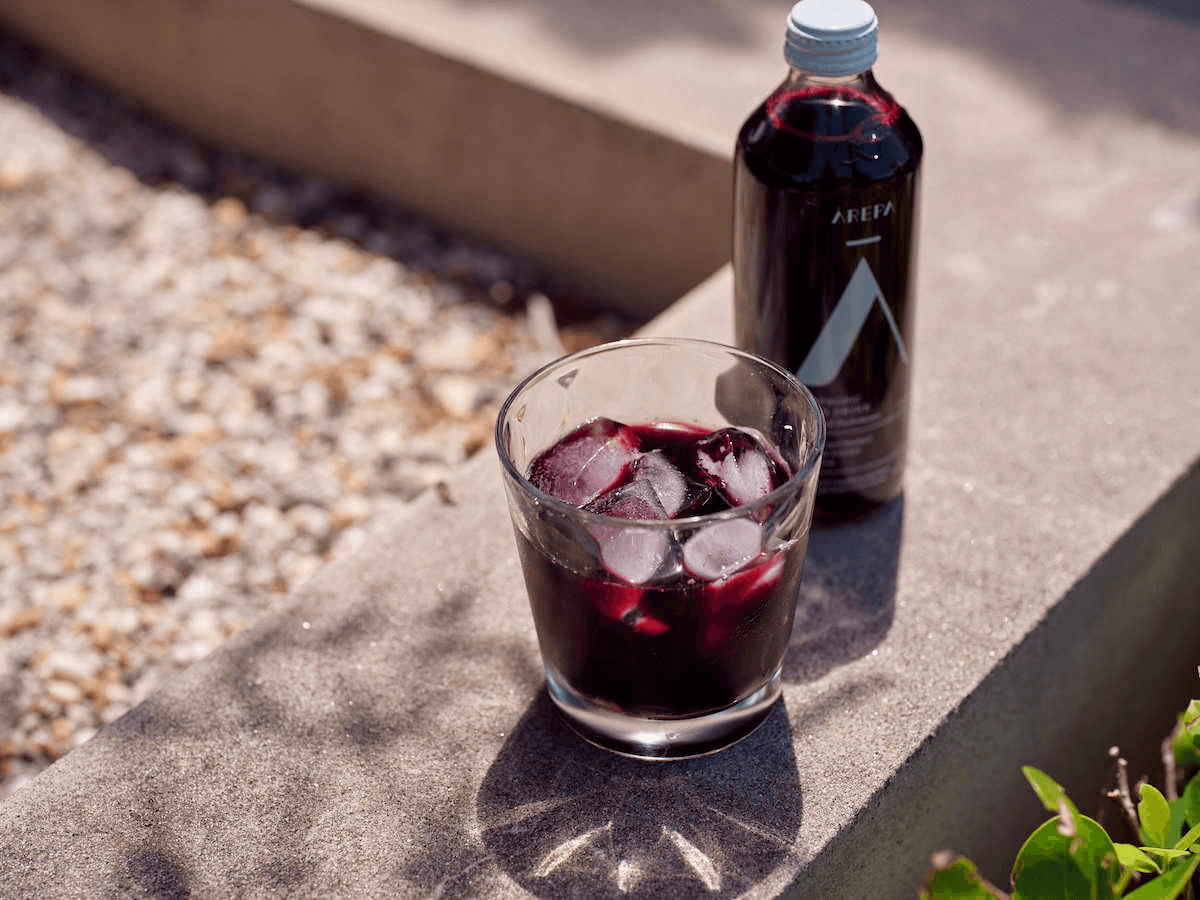 At the time, Brown had been working for one of New Zealand's top beverage companies and struggled with the concept of selling sugary and caffeinated energy drinks to the masses.
"I saw a nine-year-old kid walking out of a dairy with a massive can of energy drink and I thought: 'Am I doing any good here?'"
Combined with the loss of his grandparents and a friend to brain-related illnesses, and witnessing people close to him grappling with anxiety and nervousness, Brown became fuelled by a passion to help in this area. He discovered the world of nootropics and set out to create a cognition-enhancing "brain drink", something that could help calm the mind and provide focus beyond the usual additives that were saturating the "energy" market, while also improving long-term brain health.
At the same time, Robinson was working as a product and industrial designer in Australia. Brown reached out to Robinson to see if he was interested in designing Ārepa's bottles. Robinson was quickly taken by the Ārepa concept as he was dealing with his own share of anxiety and stress from the job and could see the benefit brain food could provide in his own life, so he jumped on board.
"I remember when Angus told me he had this idea for a brain drink and I thought, 'Man, that's something I need.'" says Robinson. "Then we had to create a formulation, something that actually worked, so we found one of the world's top neuroscientists, Professor Andrew Scholey, and begged and pleaded with him to help us. He came round to the idea and we paid him with a small amount of funds we had raised."
After much fine-tuning to get the taste and consistency right while also maintaining a high level of active content, Ārepa arrived. Scholey's original formula – still used as part of Ārepa's patented formula today – includes pine bark extract, which provides a powerful antioxidant compound, "neuroberry" NZ blackcurrants which are high in vitamin C to support focus and neurological function, and L-theanine, an amino acid commonly found in green tea, which helps to reduce stress and promote relaxation.
In addition to utilising existing research on its ingredients, Ārepa has invested in clinical trials on its formula. In one peer-reviewed study conducted by the University of Auckland, it was found that drinking Ārepa significantly improved mental performance in physically fatigued subjects.
"From day one, we knew that to be successful, our product had to actually work. It couldn't work on branding alone, which is why it took so long to get to market," says Robinson. "In that sense, we're more like a tech company than a food company, as we worked for years on our technology before we launched."
"Before we even had our first product sold, we were working on clinical trials. So far, we've completed three trials and now we've got another nine in the works. One of these is a trial we're doing with the University of Wollongong and Dementia Centre for Research Collaboration Australia to see if we can help ward off dementia's early signs."
"So we don't stop the science, we keep going and looking into new things. Because the more we dig into it, the more we find how much potential the Ārepa formula has."
Since launching at the end of 2017, the company has gone through some big changes. Rising from its beginnings as a niche nootropic drink available online to a mainstream drink found in all major supermarkets, with high-profile customers ranging from the All Blacks and NBA star Steven Adams to Google's Larry Page and New Zealand prime minister Jacinda Ardern.
Some other changes since the company's inception include a recent brand redesign, the addition of sparkling drinks and shots, ditching its plastic bottles for glass and expanding its range to include capsules and powders made from the same ingredients that first put Ārepa on the brain food map.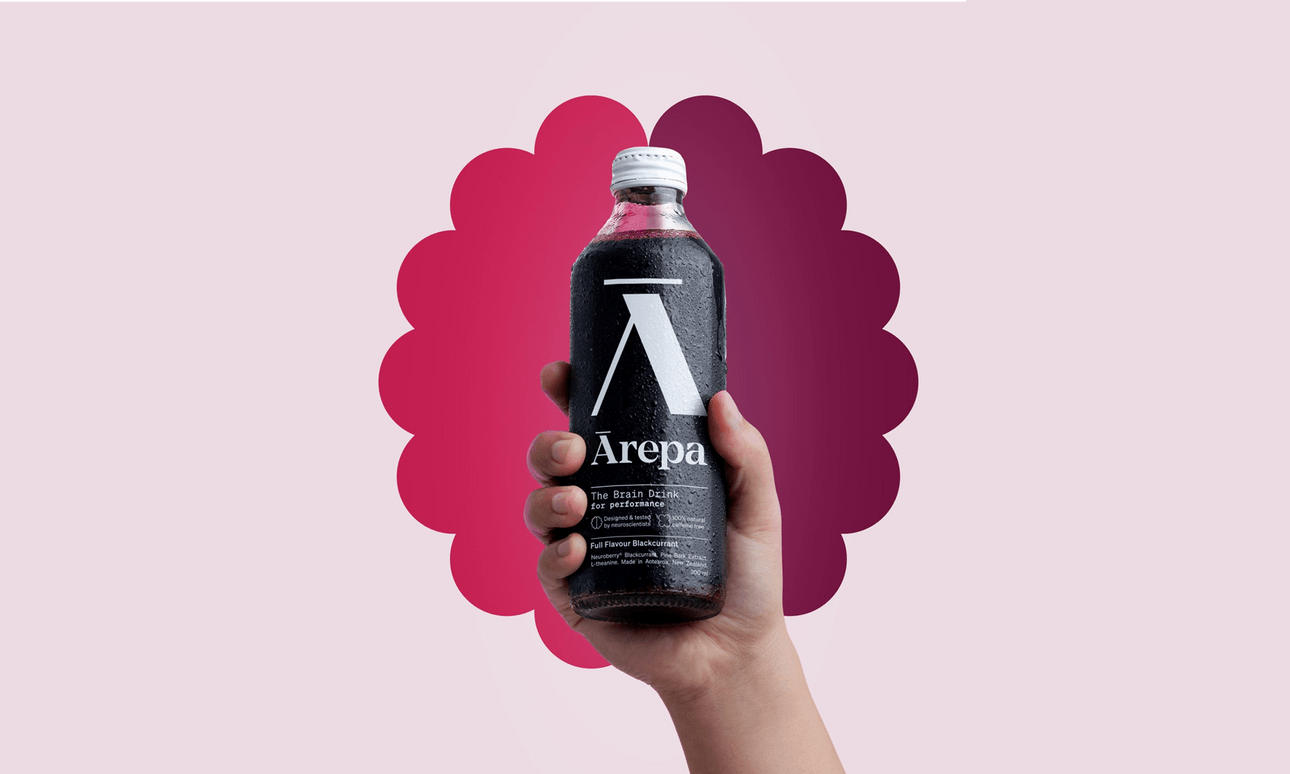 Looking around the company's spacious and modern new Morningside headquarters, where its team of nearly 20 currently reside, Robinson says Ārepa has come a long way from its early years. They first worked from a small corner office tucked away at Abe's Bagels' Mt Wellington factory (Abe's Bagels' owner is an Ārepa investor), an office "a million miles" from where they are today.
"Our earliest employees have seen the company grow from when we were just sending a couple of boxes out the door most days from our little factory office, to now where we're shipping multiple pallets every day from our Tauranga manufacturer. So it's definitely been a big change."
Another big change for the business has been becoming an exporter with its debut in Australian supermarket Coles at the beginning of last year. And while it's a "tough market" that takes a lot of hard work, Robinson says it's been going well so far, with Coles ordering more range for more of its stores, and Australia's other major supermarket chain, Woolworths, also jumping in and stocking Ārepa since July this year.
Off the back of its first overseas expansion, the business has also been busy raising capital. In 2021 it completed a $2.5m pre-series A funding round bringing on some notable backers and advisory talent, including former Zespri chief boss Lain Jager and Allbirds creative Simon Endres. Now the business is gearing up to raise a further $5m from investors, using the funds to fuel more research, product development, and expansion into overseas markets.
"We had our first close of our latest capital raise last month," says Robinson. "It wasn't easy, but at the same time it wasn't hard either. Because we had a business case that we could put forward showing 25% growth every quarter for the last 12 quarters, including sales in Australia."
"Getting investment early on was very hard because we had to convince people to invest in an idea, rather than something proven, so there were a lot of risks. We knew there was science out there to support our product and we had Professor Scholey willing to help us understand and undertake the science, but that science could've shown unhelpful results, for all we knew."
"That's why early angel investors genuinely are 'angel' investors: they're helping you when all you have is an idea, and helping you make that idea into a reality."
The next 18 months for Ārepa will be about scaling up its business across Australasia and getting ready for its third market. And while there hasn't been a final decision on that third market yet, Robinson says the most likely candidate is the United States, where the third biggest source of traffic for its website currently comes from.
"They're finding us organically through Google, which shows there's market pull over there and there are people looking for these products," he says. "There's nothing like us over there in the market."
So while 10 years has already passed from concept to product to expansion, in many ways, Ārepa's journey has really only just begun. It's apt for the company considering that, as well as referring to the alpha brain waves that allow us to be calm and focused, the name Ārepa has another meaning: the beginning. More specifically, the beginning of a new frontier in brain nutrition.
"Alpha and omega: it's the beginning and the end," says Robinson. "And for us, we feel we're the beginning of something new, a new world of brain food products that genuinely work and make a difference to people's lives."